Curiosity Weekend – Aug. 4th & 5th – Planet Mars Welcomes NASA's Newest Visitor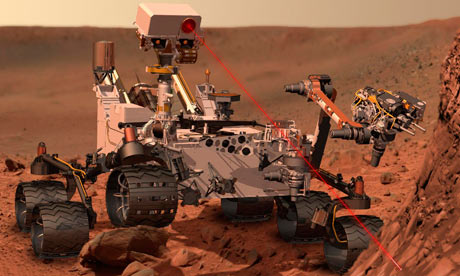 For more than half a year, NASA's "Curiosity" robot explorer has been rocketing its way to Mars. On August 5th, MARS gets a new visitor from planet Earth.
Come to the Science Museum at Tanglewood Mall to share special real-time video supplied by the Planetary Society. Get unique views and commentary on the final leg of Curiosity's journey to the surface of the Red Planet.  We'll have activities for the kids, so as always bring the family to enjoy this fascinating event.  We'll have activities and things to see from opening to closing each day:  10 AM – 6 PM Saturday Aug. 4th, and 1:00 PM – 5:00 PM Sunday Aug. 5th.
Curiosity is NASA's biggest robot yet – about the size of a Volkswagen Beetle.  And unlike previous robots sent to explore geology, Curiosity is specifically hunting for signs of LIFE!  Send Curiosity on its way and have fun with other "planetary explorers"!
_____________________________________________________________________________